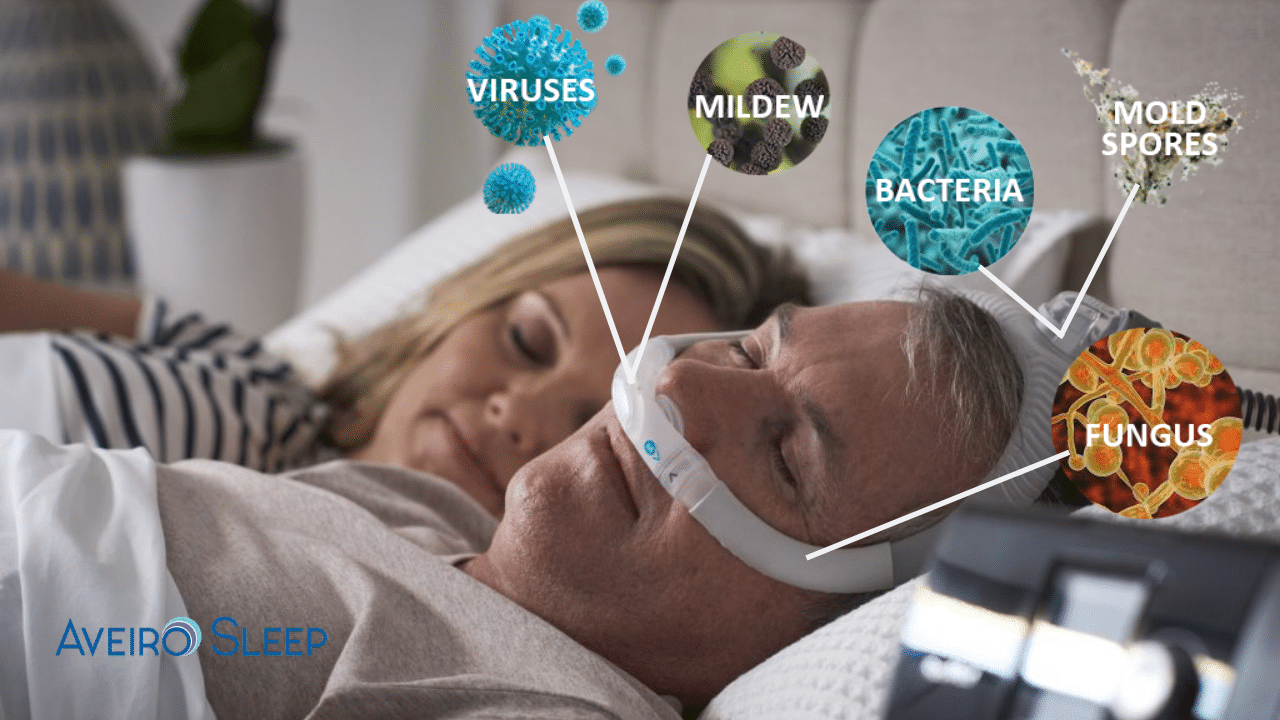 You made a smart and important decision involving your health the day that you decided to move forward and initiate PAP therapy for your sleep apnea. You have invested time and money when purchasing and acclimating to this device and supplies. Why not get the most out of that investment?
Without proper cleaning and maintenance, your PAP machine and supplies can grow harmful bacteria, and with COVID-19 amongst us it is important to be as healthy as we can be. Daily cleaning of your supplies is important to maintaining the longevity of your investment, but also to help keep your airway open while you sleep by maintaining a proper seal between your face and the mask. If your cushion losses the proper seal, airflow will start to push out the sides, and you no longer have a proper seal to maintain your open airway. This could lead to you stopping breathing, and defeat of the purpose of using the mask and device.
A vital part of maintaining the integrity of your seal is by cleaning it daily. You should wash the cushion in warm, soapy water using a mild dishwashing detergent (such as Purdoux soap) and allow to air dry, you can also use a PAP mask wipe (Purdoux PAP wipe) that is quick and convenient, you can find these in our online store. The soap, and/or PAP wipes acts as a grease cutter to wash away oils from your skin left on the mask. This can go a long way to extend the lifetime of your cushion and ensure an adequate mask seal.
Routine cleaning and replacement of your PAP supplies will keep you healthy in a time like this. You should replace the distilled water in your heated humidifier chamber daily. Do not allow this water to sit for extended periods of time, as bacteria love a warm, wet place to grow. If you are ill, daily cleaning of all your supplies is a good practice until your symptoms are gone.
Here is a guide to helping you understand the cleaning and maintenance of your PAP equipment.
Daily
Wipe mask interface with Purdox PAP wipes or wash with mild dish soap (such as Purdoux soap)
Weekly Cleaning
Water Chamber:

Fill sink with warm water and mil soap and submerge chamber for 15 minutes.
Rinse and allow to air dry
Hose:

Disconnect tubing from PAP machine
Gently wash in solution of warm water and mild soap
Submerge hose for 15 minutes; do not submerge electric connector
Rinse hose and hang to dry (on towel rack or shower rod)
Mask:

Submerge mask completely in warm soapy water for 15 minutes
Keep Velcro straps attached to headgear when cleaning, this will help the Velcro stay "sticky"
Rinse mask and allow to air dry
Filters:

Respironics: Rinse the filter with the dark blue frame with warm water only and let air dry completely
ResMed: Flick the dust from the filter once a week
It's time to replace your mask, cushion, headgear and other supplies when you can no longer maintain a good seal despite regular cleaning and proper mask fit and placement. Regular replacement of all of your disposable supplies is an important part of keeping you healthy and the equipment working properly.
Recommended Supplies Replacement Schedule
| | | |
| --- | --- | --- |
| Resupply | Equipment | Reason to Replace Regularly |
| Every 2 months | Ultrafine Filter | Filters can wear out or clog if not replaced, and can expose you dust, mold, and germs. |
| Every 6 months | Mask Cushions and nasal pillows | Cushions degrade. Replace to ensure a good seal and fit. |
| Every 6 months | Mask | The silicon loses the ability to be cleaned, and can grow bacteria and mold. |
| Every 6-12 months | Headgear and chinstraps | Straps stretch out – resulting in overtightening. They also can harbour germs. |
| Every 6-12 months | Non-disposable filters | Non-disposable filters can clog if not replaced, and can grow bacteria and mold. |
| Yearly | Water chamber | Chambers can age and crack, and can grow bacteria and mold |
| Yearly | Tubing | Tubes can wear down and cause leaking, which decreases therapy effectiveness. |
You have made a valuable investment in your present and future health. Do the most you can to get the most out of your investment.
Recommended Products
Purdoux Soap 
Specifically designed for CPAP masks and equipment, Purdoux soap does  not contain bleach, alcohol, conditioners, lotions, moisturizers, or latex. It helps make cleaning easier by removing body oils from silicone surfaces and preserves the mask's softness and elasticity. Simply wash and rinse. It's safe and non-toxic to use, leaving no harmful residue or odor.
Purdoux Mask Wipes
Wipes are an excellent compliment to your CPAP cleaning regimen. Its important to use wipes that do not have harsh chemicals and are gentle for silicon surfaces. Purdoux CPAP Wipes effectively remove dirt, grease, oils and other organic residue from your masks and equipment, keeping them clean and fresh. They're made with 100% pure cotton for high absorbency, and great cleaning, without harmful chemicals or residue.
The Lumin 
Taking it an extra level with cleaning CPAP equipment, The Lumin is a convenient way to sanitize everything from CPAP masks to personal items including keys, wallets, toothbrushes, etc. Simply open the drawer, insert your items, and press the start button. In a 5-minute cycle, the UV light is 99.9% effective in disinfecting viruses and bacteria. Safe and ozone-free, this device is an excellent addition in any home.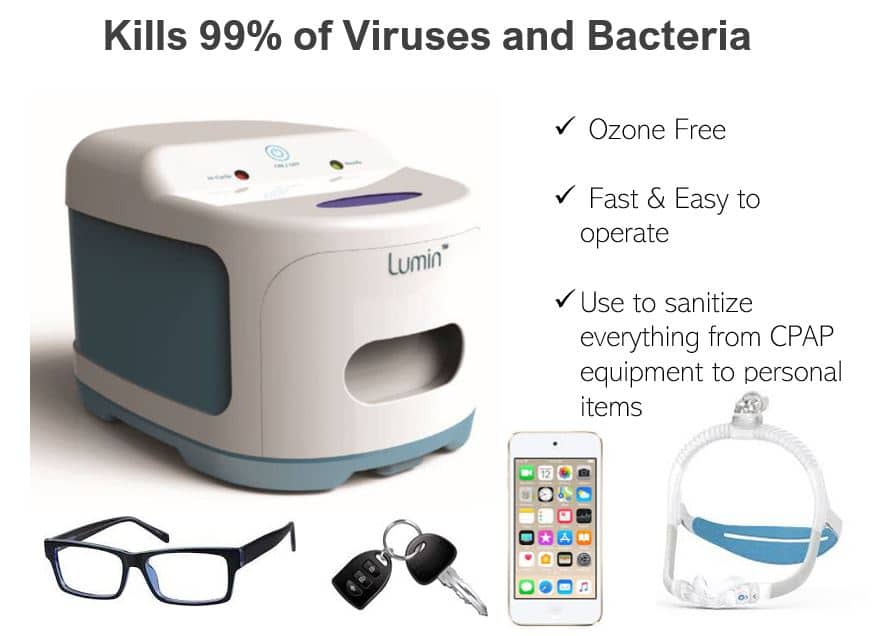 Please visit our Promotions page to see our SPECIAL OFFER on these cleaning products and The Lumin! Click here.
Aveiro Sleep provides Home Sleep Apnea Testing, CPAP therapy and support services catered to obstructive sleep apnea. Our local clinics allow us to test, treat, and support thousands of Albertans close to their homes.
Call now to speak to a Patient Success Coordinator 1-855-852-2989 or contact us through our online form.