It is often a spouse or loved one that notices sleep apnea.
Do you have Obstructive Sleep Apnea?
It is often a spouse or loved one that notices sleep apnea.
Do you have Obstructive Sleep Apnea?
What is Obstructive Sleep Apnea? Who does it affect?
Obstructive Sleep Apnea is the result of a collapse of the upper airway during sleep, interrupting airflow and reducing oxygen levels. It is severely undiagnosed in Canada and those suffering from it are usually unaware that they have it.
Answer the "STOP BANG" questionnaire to your right to see if you are at risk of Obstructive Sleep Apnea.
Low Risk of OSA: YES to 0 – 2 questions
Moderate Risk of OSA: YES to 3 – 4 questions
High Risk of OSA: YES to 5 – 8 questions
S - SNORING
Do you snore loud enough to be heard through closed doors or loud enough to disturb your partner?
T - TIRED
Do you often feel tired, fatigued or sleep during the daytime?
O - OBSERVED
Has anyone observed you stop breathing, choking, or gasping while you were sleeping?
P - PRESSURE
Are you being treated for high blood pressure?
B - BODY MASS
Is your body mass index greater than 35kg/2?
A - AGE
Are you older than 50?
N - NECK SIZE
Is your neck size larger than 43 cm if male, or 41 cm if female?
Our Approach
A Home Sleep Apnea Test (HSAT) is design to be a convenient way to collect information about your sleep. Many major insurance companies now encourage Home Sleep Apnea Testing as a critical first step in sleep disorder diagnosis, helping patients identify their Obstructive Sleep Apnea so they can initiate treatment as quickly as possible.
Our Sleep Clinicians provide our patients with detailed instructions on the use of a Home Sleep Apnea Testing device. There is ample opportunity for you to ask questions if there is anything you do not understand.
You can go to bed in your own house at your regular bedtime. When you are ready to sleep, you will attach the sensors to your body as instructed. You may be asked to keep a sleep log or press a button when you get into bed. When you wake up in the morning, you can remove the sensors.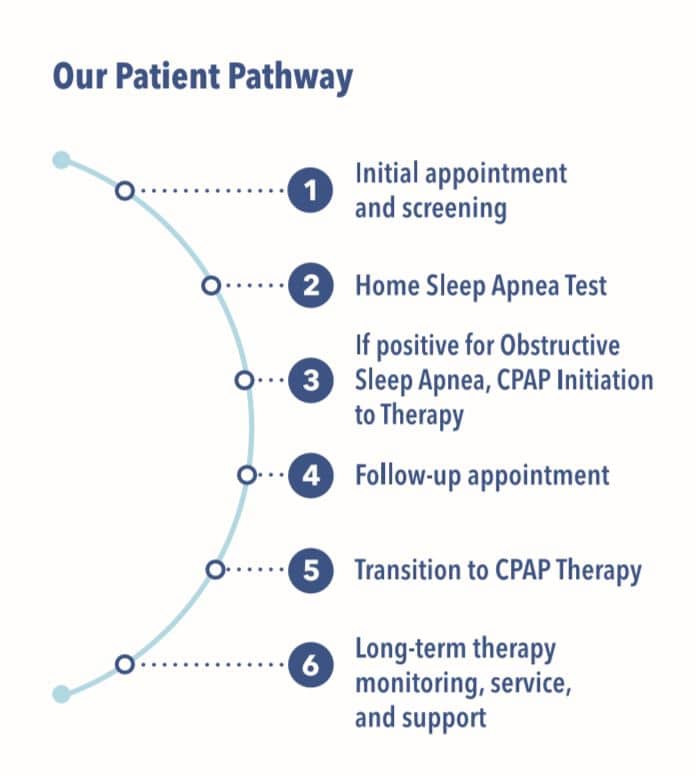 What will take place during my first appointment?
With your consent, your Sleep Clinician will obtain a medical and sleep history from you. Your clinician will next explain the purpose of the home sleep apnea test, what is obstructive sleep apnea (OSA) and how to use the sleep recorder. The clinician will answer any questions you might have regarding the sleep test and you will arrange for you to return the sleep recorder the following day. This first consultation will take roughly 30 minutes.
How does your Family Physician make a referral?
We will send your Family Physician's clinic a Sleep Services Referral Form or they can obtain a copy from our website. Once we have received the referral, we will contact the patient to schedule an appointment. Click here for a referral form.
How long does it take to schedule a Sleep Test appointment?
This can be carried out within days of your Family Physician's referral. If the referral is assessed as urgent, the wait period will be shorter.
What if I don't have insurance and can't afford a CPAP machine?
If you do not have insurance, your Sleep Clinician will work with you to find an affordable option to purchasing CPAP equipment. These options include our compassionate care program, a layaway program or giving you information regarding applying for Medicard, a patient financing company.
Why should I go through Aveiro Sleep to buy a CPAP instead of buying online?
To effectively and safely use CPAP therapy, it is recommended that you are monitored by a health care professional. Health care professionals trained in sleep therapy like Respiratory Therapists, will custom fit you for a CPAP mask and ensure your CPAP pressures are comfortable and are effective at treating your OSA.
Included in the purchase of a CPAP machine through Aveiro Sleep, is a lifetime of service with our company. This includes remote monitoring of CPAP data and no additional charges for follow-up appointments. 
What does Aveiro Sleep's "Integrative Services" mean?
Even if your home sleep apnea test results are negative and you do not require CPAP therapy, Aveiro Sleep wants to help you continue with your sleep health journey. Our multidisciplinary approach includes partnerships with sleep specialists from The Centre for Sleep and Performance and board-certified sleep dentists who specialize in oral appliances.
How does the CPAP trial program work?
CPAP therapy remains the gold standard for treating OSA. If your sleep test results show that you have OSA, CPAP therapy may be recommended for you. Once Aveiro Sleep obtains a signed prescription from your referring physician, we can initiate a CPAP trial. A CPAP trial involves a Sleep Clinician custom fitting you for a CPAP mask, educating you on CPAP therapy and scheduling a follow up appointment. You will be in contact with your Sleep Clinician weekly during this trial period.
What if I am already on CPAP therapy?
If you are already on CPAP therapy, we would love to see you as a patient. Your Sleep Clinician can assess the condition of your CPAP machine, determine the effectiveness of your current CPAP pressures and make mask adjustments.
What if I travel for work?
Many patients travel with their CPAP equipment. If you are travelling by airplane, it is recommended you take your CPAP machine as a carry-on item. Our remote monitoring program will ensure your OSA is effectively treated with CPAP therapy even if you are not at home.
What brands of CPAP machines and supplies does Aveiro Sleep provide?
Aveiro Sleep carries a number of different manufacturer masks and machines. These brands include Respironics, ResMed and Fisher and Paykel.
How often should I replace my CPAP mask?
CPAP masks should be replaced every 6 months-to  a maximum of 12 months. The majority of CPAP mask seal are made with silicone, which as extremely soft and porous material. Facial oils, bacteria, and certain cleaning agents will slowly break down silicone- causing it to become thin and less supportive- resulting in leaks. Most insurance companies do allow 2 masks per calendar year.
We can help you sleep. Find out how.