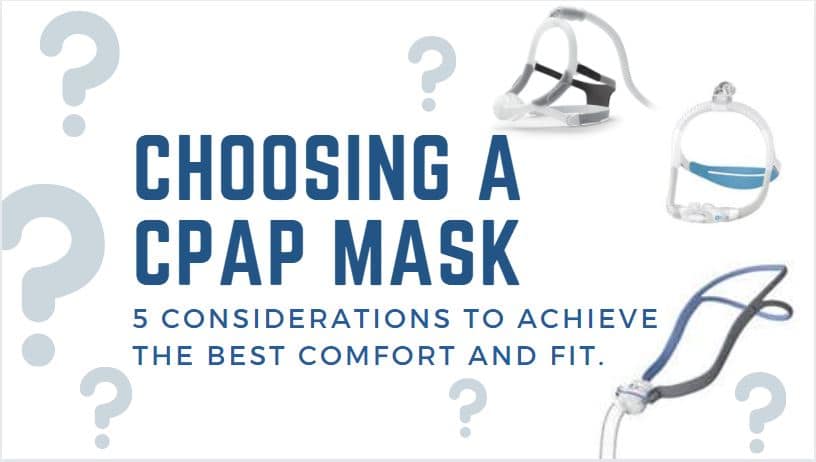 With so many mask options available for your CPAP therapy, it's hard to know what the best one will be your unique preferences and comfort. Aveiro Sleep has a team of sleep clinicians who are experts in performing mask fittings, educated on the latest technology, and who have a wealth of experience in which masks get top reviews from patients.
CPAP masks can be pricey. You don't want to be stuck with one that is uncomfortable or causes other challenges like leaking air. Don't risk buying online by guessing which mask will work for your, always talk to a professional from an CPSA accredited clinic and take the time to physically try some options on to gage your preferences.
Considerations on selecting a CPAP mask:
 1) Face Shape and Size
The most accurate way to determine your size requirements is by being measured with a mask fitting tool performed by a professional sleep clinician. Never assume that because you have a certain head size, that your mask would match it accordingly. The spacing and size of your facial features determine what size and type of mask is most appropriate for you.
2) Line of Sight
Full face masks and some nasal masks cover the area between the eyes or fit high on the bridge of the nose. This may be a hinderance for people who wear glasses, like to watch TV, or read while wearing the mask.
3) Bed Partner

The flow of air discharged from the mask can sometimes be disruptive to a bed partner. Certain masks such as the ESON2 by Fisher & Paykel have a built-in diffuser so that it doesn't blow a steady stream of air next to you.
4) New to therapy or experience claustrophobia
It can take some time to get used to CPAP therapy, and for some, the feeling of a mask covering the face can be cause anxiety. Small and with minimal face contact, nasal masks can be the solution to individuals who experience claustrophobia. It's important to know that it takes practice wearing CPAP masks to get used to it. Wearing the mask before bed while winding down for the night can ease the transition to being able to sleep with it on.
5) Sleeping Position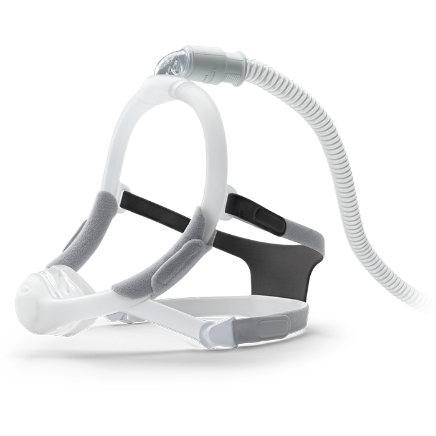 Side sleepers may find some masks uncomfortable because it puts pressure on the face. Although a special CPAP pillow can help solve this challenge, a mask with soft silicon on the side of the face may also be the solution. The Respironics DreamWisp directs airflow through the soft silicon frame to allows for side sleepers.
 6) Features

Some masks have rubber headgear, which can rub and pull hair. The P10 by ResMed is an appealing option for this concern as the straps are soft and the width is slimmer. However, please note that individuals with silky hair may find these mask straps may not stay in place as well.
Ease of putting on/taking off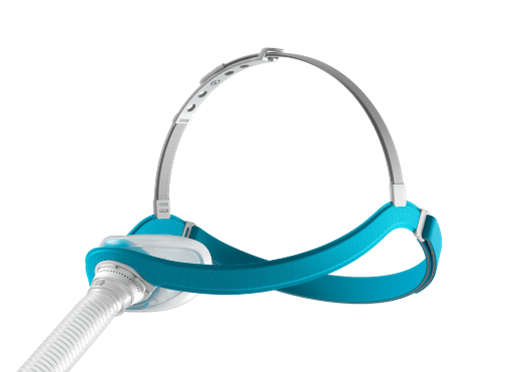 Fisher and Paykel have come out with the Evora Nasal mask with CaptFit headgear, designed for patients to put on like a baseball cap in one movement. This is perfect for individuals who find masks with straps challenging or for those who put it on in the dark. 
Hose placement (either in front or on top of head)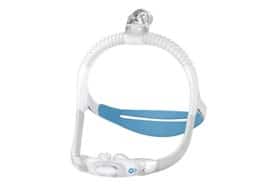 For those who move around a lot in the night, hose placement at the top of the head is a good option. This helps not getting tangled with the hose when changing sleeping position. The following is the P30i by ResMed and features a top hose placement.
Common Questions 
Does your mask have to be the same brand as your CPAP machine? 
No! Most CPAP masks work universally with the leading PAP machine suppliers such as ResMed, Philips Respironics, and Fisher & Paykel. That said, some travel machines can require specific CPAP masks to work with its system.  
Do I have to have a full-face mask if I have severe sleep apnea? 
Technology and advancements have come a long way for CPAP masks. In terms of therapy effectiveness, a full-face mask is usually not required if you have severe sleep apnea. However, if a full-face mask is more comfortable with the high pressure setting, then that's your call!
Mask Accessories 
CPAP pillow – A common issue for CPAP users who sleep on their side, is that their mask is being pushed up by their pillow. A CPAP pillow is designed with a unique cut-out shape to allow the mask to sit naturally on the face. This can make sleeping with a CPAP mask more comfortable and prevent leaks.
Fleece covering for straps (prevent red marks) – some masks may have increased pressure points on certain areas of the headgear. Use CPAP strap covers made out of soft material such as fleece to reduce the irritation and prevent red marks.
Chin Strap – Dry mouth or gassiness may occur if your mouth drops open during sleep while on CPAP therapy. Try using a chinstrap to prevent this from occurring
Taking care of your mask 
Protect your health and ensure the effectiveness of your CPAP therapy by regularly washing your ent or one that is formulated specifically for cpap masks, such as Purdoux. As an extra step, you also can use sterilizing equipment such as The Lumin to kill bacteria and germs.
Replace your mask cushions or mask every 6 – 12 months, as the medical-grade silicon loses its ability to be cleaned and seal effectively. 
Final Thoughts
There is no "one-size fits all" when it comes to CPAP masks. Everyone has unique facial features and preferences that can make certain masks more appealing than others. Aveiro Sleep is here to help you select a CPAP mask that will be the best fit and features to suit your sleep style.
Aveiro Sleep provides Home Sleep Apnea Testing, CPAP therapy and support services catered to obstructive sleep apnea. Our local clinics allow us to test, treat, and support thousands of Albertans close to their homes.
Call now to speak to a Patient Success Coordinator 1-855-852-2989 or contact us through our online form.